Tour Guides Needed
The John Greenleaf Whittier Birthplace is looking for volunteer docents.
Prospective tour guides need to attend one of our one hour training
sessions. Training for new tour guides will be held on Sunday, August 1st
at 4 pm, and Wednesday, August 4th at 6 pm. To register, or for more
information, call 978-407-1955
Preservation of the birthplace
of John Greenleaf Whittier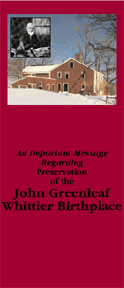 Preservation of this vital community asset is of critical importance. The challenge of maintaining a more than 300-year-old historic home in the face of dwindling resources is compelling the Trustees of John Greenleaf Whittier Homestead to seek your support.
Your contribution of any amount you can afford will greatly assist efforts to preserve this important monument to one of the city's greatest sons.
Download an informative brochure (in Adobe Acrobat format) "An Important Message Regarding Preservation of the John Greenleaf Whittier Birthplace" by clicking here or on the image at right. You may also send contributions to the address below. Thank you for your support!
Trustees of the John Greenleaf Whittier Homestead
c/o John Greenleaf Whittier Birthplace
305 Whittier Road
Haverhill, MA 01830-1738