A monument to Haverhill's great poet and abolitionist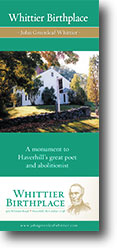 (Download Brochure) The John Greenleaf Whittier Birthplace is substantially the same as when the poet lived there. Best known for his poetry—in particular his poem, Snow-Bound—Whittier was also a prime mover in the abolitionist movement.
Important Notice
Due to the situation surrounding COVID-19, Whittier Birthplace is delaying the opening of the 2020 season.
For the most up-to-date information, please visit the Friends of John Greenleaf Whittier Birthplace Facebook group by clicking here.
Hours
Friday: 11 a.m. – 4 p.m.
Saturday: 10 a.m. – 4 p.m.
Sunday: 1 – 4 p.m.
Monday through Thursday: Closed
The Birthplace is typically open from the fourth Friday in April through the last Sunday in October. With the exception of special events, the Birthplace is closed during the winter.
Help as a Volunteer Tour Guide
The Board of Trustees of Whittier Birthplace seeks volunteer tour guides for the 2020 season.
Whittier Birthplace, located on its original site, is an outstanding example of an old New England farm. It is substantially the same as when the poet, John Greenleaf Whittier lived there from 1807 to 1836. The Birthplace is the setting of his most famous and beloved poem Snow-Bound.
Tour guides are responsible for leading visitors through the historic 1688 farmstead where Quaker poet and abolitionist, John Greenleaf Whittier was born. Training will be provided and no previous experience is necessary. Tour guides should be comfortable speaking in front of groups, have excellent customer service skills and be intellectually curious about history, poetry, and/or other related subjects. Tour guides will be responsible for locking/unlocking the museum, handling admission and store transactions, leading tours and reporting both positive and negative experiences to the Board of Trustees. Tour guides must be available for at least one, 3-4-hour shift per week, on Fridays, Saturdays and/or Sundays during April through October.
To apply, please send letter of interest to [email protected] by March 31.